Note: National Association of Realtors® (NAR) data below is from May (most current national data)
National Association of Realtors® (NAR) data show a comeback in sales of existing homes in May after a decline in April. Meanwhile, low inventory levels helped boost the median sales price to a new high and shortened the median number of days a home is on the market to a new low. All major regions except for the Midwest saw an increase in sales in May.

Total sales of existing homes sales (transactions for single-family homes, townhomes, condominiums and co-ops), grew 1.1% to an annual rate of 5.62 million in May, up from 5.56 million in April. Last month's sales velocity is 2.7% higher than one year ago.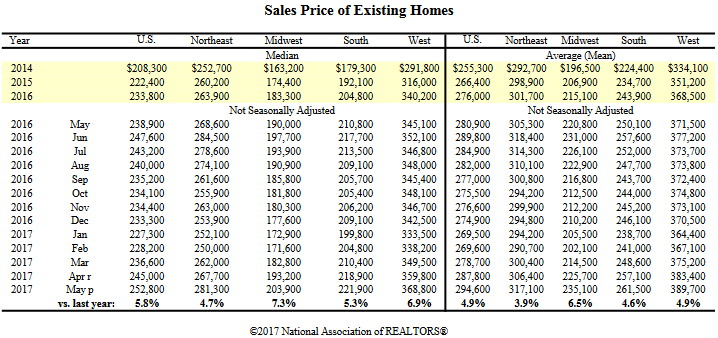 NAR's chief economist, Lawrence Yun, said sales action grew in May as more buyers surmounted the difficult market conditions seen in many areas. "The job market in most of the country is healthy and the recent downward trend in mortgage rates continues to keep buyer interest at a robust level," Yun said. The economist added, "Those able to close on a home last month are probably feeling both happy and relieved. Listings in the affordable price range are scarce, homes are coming off the market at an extremely fast pace and the prevalence of multiple offers in some markets are pushing prices higher."
Housing Data Takeaways
May's median price for existing US homes (all housing types) was $252,800. This outpaces last June ($247,600) as the new highest median sales price, representing a rise of 5.8 percent from May 2016 ($238,900) and marks 63 consecutive months of year-over-year gains.




Total US housing inventory at May's end rose 2.1% to 1.96 million existing homes available for sale, however, this is 8.4% below one year ago (2.14 million) and has dropped year-over-year for 24 straight months.




Nationally, properties remained on the market for 27 days in May, down from 29 days in April and from 32 days at the same time last year. This is the shortest timeframe since NAR began tracking in May 2011.




Freddie Mac data indicates the average commitment rate for a 30-year, conventional, fixed-rate mortgage fell for the second month in a row, to 4.01% in May from 4.05% in April. For all of 2016, the average commitment rate was 3.65%.




First-time buyers drove 33% of May's US sales, down from 34% in April but above 30% a year ago. NAR's Profile of Home Buyers and Sellers for 2016 showed the annual share of first-time buyers was 35 percent.